Manage personnel data with ITISeasy.business

All data that may arise during the course of the employment relationship with the employee can be stored and maintained in the personnel module.​

Keeping an Eye on Your Employees

Imagine your employee Emma Schneider has been working with your company for a few months. You already know the most important information about your employee from the application process and the interview. However, true understanding comes during the course of work. ITISeasy.business provides you with the opportunity to manage and store all relevant information about your employees as you see fit.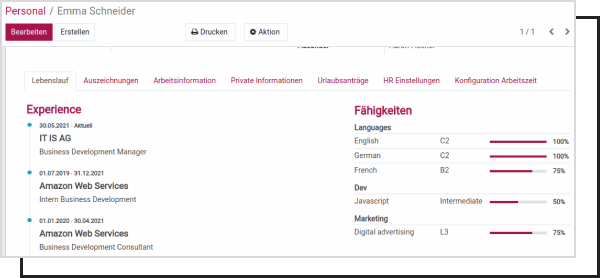 Employee Data
On the tabbed sections of Emma Schneider's personnel entry, there are various options for managing the data.

Here, the professional experiences and skills of the employee are presented.

The categories and subdivisions are individually configurable, allowing for the right representation for each employee.

Work Information/Organizational Chart

In the work information section, all relevant work-related information is stored. In the screenshot, for example, in addition to the selected supervisor who grants all HR approvals for Emma Schneider, the organizational chart is also shown, depicting Mrs. Schneider's employee structure.
This way, all relevant employee information is conveniently and quickly visible in one place.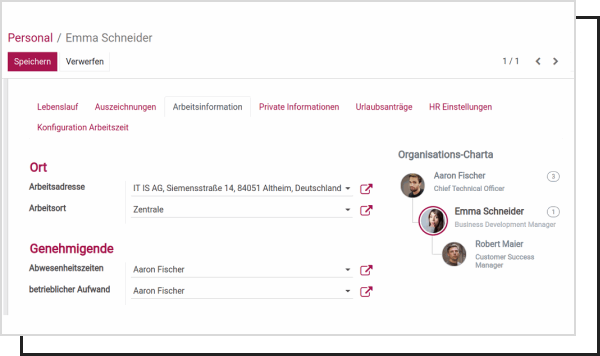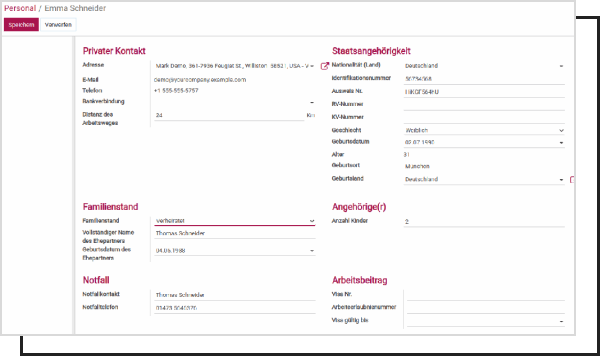 Personal Information

While they may not seem relevant at first glance, have you ever been in a situation where you needed a private emergency contact for an employee due to a workplace accident, or had to reach out to their family members?

While these situations are not desired, when such information is needed, ITISeasy can excel with its own interface and options to store this information.

Vacation

Emma Schneider's vacation entitlement is also visible directly on the contact profile. In the example, the remaining vacation days are 28. These are automatically calculated using the accrual method. (30 entitlement - 3 taken vacation days + 1 additional vacation day).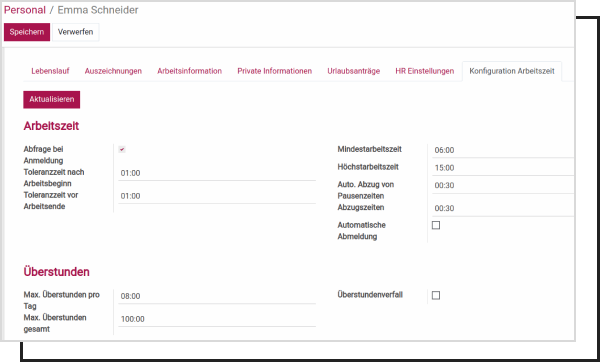 Configuration of Working Hours

The employees' working hours are adjusted specifically here. You know your employees best and can, for example, adjust the automatically deducted break time based on Ms. Schneider's break habits.

Or, if you're aware that your new apprentice tends to forget to log out of the system, you can configure automatic logout settings here.

Are you missing this function in your ERP system Odoo?

Contact us for more information or a demo.