ITISeasy shipping service

Simplify your parcel shipping!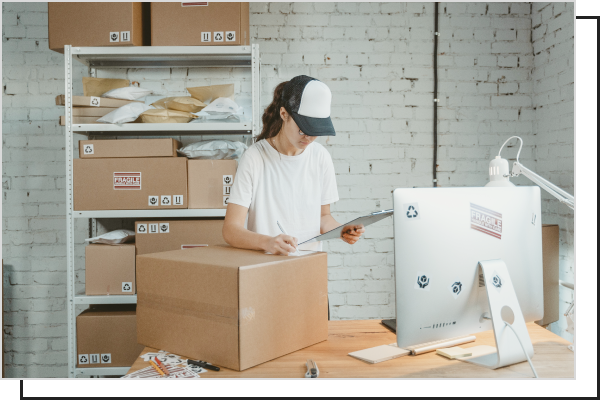 Nowadays, it is extremely important for any company to respond quickly to customer requests. This applies not only to professional online store operators, but also to any company that is confronted with the shipment of parcels.
Especially here it is important to be able to react quickly and reliably, not only when sending parcels, but also when customers return them.
By integrating the most important shipping service providers into ITISeasy.business, it is now possible to receive the labels required for shipping directly from the shipping service provider with just a few clicks.

Parcel shipping with UPS as shipping service provider
Parcel shipping with GLS as shipping service provider

Integration of GLS into ITISeasy.business

With the integration of GLS in ITISeasy.business, you can now perform the steps required for shipping parcels via GLS directly in ITISeasy.business.
This includes the retrieval of "live shipping prices", the creation of shipping labels, as well as the tracking and cancellation of shipments.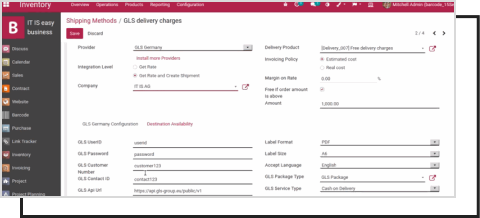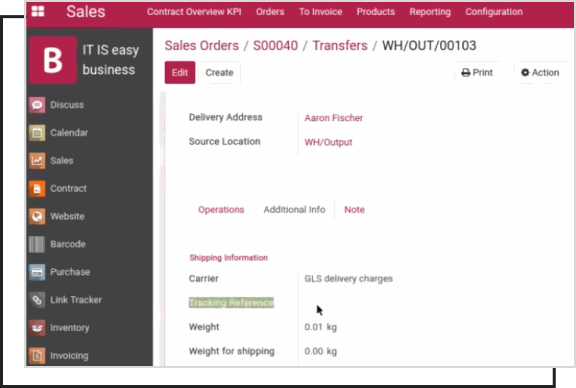 Sending packages

As soon as GLS Germany has been set up as a shipping service provider in your ITISeasy.business via the integrated tab, GLS can be selected as a carrier in sales orders.
After the sales order has been confirmed, the selected shipping method (in this case GLS Express) is automatically entered in the delivery bill. The corresponding shipping label is requested and provided via the interface to GLS.
This can now be attached to the package to be shipped in the warehouse.
Of course, GLS can also be deposited as a shipping option on the website. The buyer thus has the option to select GLS as the desired supplier.

Parcel shipping with DHL as shipping service provider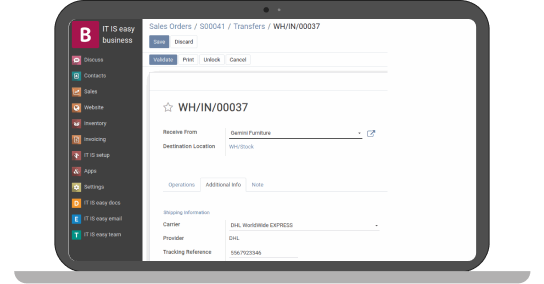 Sending packages via DHL

With the integration of DHL in ITISeasy.business, it is now also possible to send parcels via DHL. To do this, DHL only needs to be set up and activated as a shipping service provider via the corresponding tab.
As soon as this process is completed, parcels can be sent via DHL or, as seen here, returns can be initiated by customers.
Returns are not only possible in Germany, but also from abroad.​

Request shipping label

A repair order is generated for this purpose via the RMA request from the customer. After all details have been entered, the repair order can be confirmed. Via the integrated interface to DHL, the corresponding shipping label is now requested and provided for the customer.
This can be sent to the customer by email so that he can send the package to us via DHL.​

Let your data transfer dreams come true.

Contact us for more information or a demo.