Our workflow in our company...

Today we unveil the secrets of IT Services GmbH. Learn how we are using workflows and who is in charge of what:


Rudolf Sommer, CEO

Tasks: among others - Invoice verification and approval


Alexander Winter, Sales

Tasks: Communication with customers and preparation of quotations

Frank Herbst, Head of Sales

Tasks: among others - checking and approval of quotations


Tanja Grün, Accoounting

Tasks: Invoice preparation in coordination with Mr. Sommer and sending invoices


Rainer Fachmann, IT Management

Tasks: System monitoring, installation and configuration of new modules


Customer:

Schneider Elektro GmbH, Herr Friedrich Schneider

It happened more often recently: Our quotations sent by inside sales to our Prospects and customers were declined. In these tough times, we need to find out why. One of the reasons identified quickly is the right fit for the purpose. We need some more experienced opinion for the offers sent out. It turned out that the new hire Mr. Winter needs support. 
To remedy this situation, Mr. Sommer instructed his IT manager, Mr. Fachmann, to look for a solution to this problem.
Since IT Services GmbH already uses ITISeasy.business as its ERP system, Mr. Fachmann came up with a solution relatively quickly: lets generate a feedback cycle and use the new workflow module integrated into ITISeasy.business for it. With this powerful workflow management tool, workflows can be configured for all relevant areas, such as purchasing, project management and, of course, sales.

We need an approval workflow
First, a new approval procedure gets in place for offers above €1000,- Remember, this is to improve the quality of offers by better suiting the clients needs and thus increase acceptance among customers.

In order to put this into practice, the ITISeasy workflow module is installed and configured by Mr. Fachmann. The first step is to configure the new approval workflow for quotations, so that from now on all quotations over 1000,- € have to be approved by the sales manager, Mr. Herbst. You want to know how this works? Just click the button. Or continue with the story.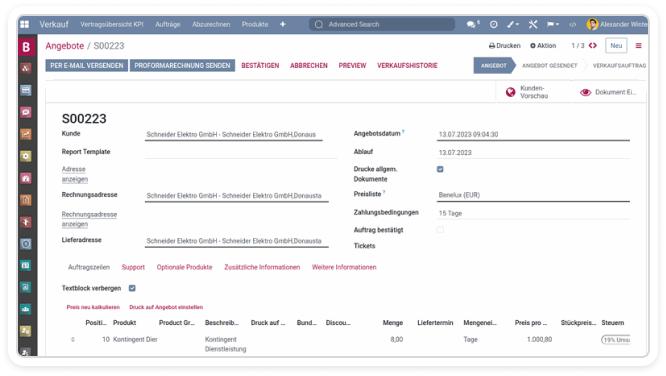 And action...

The very next day, Mr. Winter (the sales guy) receives a call from Schneider Elektro GmbH. On the phone is Mr. Friedrich Schneider. He wants to expand his existing ITISeasy.business step by step. He also wants to have two new employees trained on the product. 
After Alexander Winter has discussed the details with the customer and agreed on an hourly quota, he prepares the corresponding offer and would send it out, if not..

Lets do business

After Mr. Winter has created the offer, he wants to send it immediately to the customer, Schneider Elektro GmbH, as usual. But not so fast this time, as he needs permission.
On his screen appears a pop-up window informing him that he need to obtain approval from his superior, Mr. Frank Herbst, first. The workflow automatically sends a message to Mr. Herbst for approval. This step happens when Mr. Winter hits "OK".


Paper check

In addition, Mr. Winter has downloaded the offer as a (PDF) as usual to ensure that it is presented in a visually perfect manner. If he would like to circumvent the approval, he could send out the quote by manual mail or snail mail.
But now he notes that due to the new regulation in ITISeasy.business workflow, a watermark has been integrated into the offer so that it is evident that this offer may not yet be sent. By the way: You can customize the watermark to your needs.


Previous

Next
To Dos

Mr. Herbst can get an email about the workflow step he needs to consider. But hey: We got actions in the system. So it is much better to use notifications and actions. The action window in ITISeasy.business show one task due today, so Mr. Herbst is continuously informed about the current activities (offers) to be released. But more: He can immediately take action now, check if the client gets the correct service offering and products, is in the appropriate pricing group, other terms are set as wanted and then can approve the quote. Good job

Clicking on the corresponding notification opens the overview page with the activities (offers) to be released.

Take the task

By clicking on the selected activity, it will be displayed in detail. By clicking the button "Offer" Mr. Herbst will be forwarded to the corresponding offer.

Lets send it out

Mr. Herbst can now view and check the offer in detail.After he has determined that this offer is fine according to his experience, the offer is automatically sent to the customer by clicking on "Release".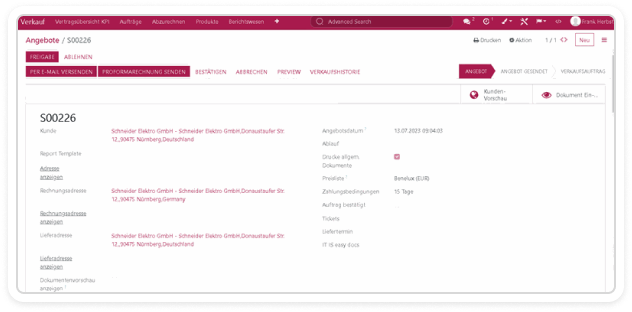 Previous

Next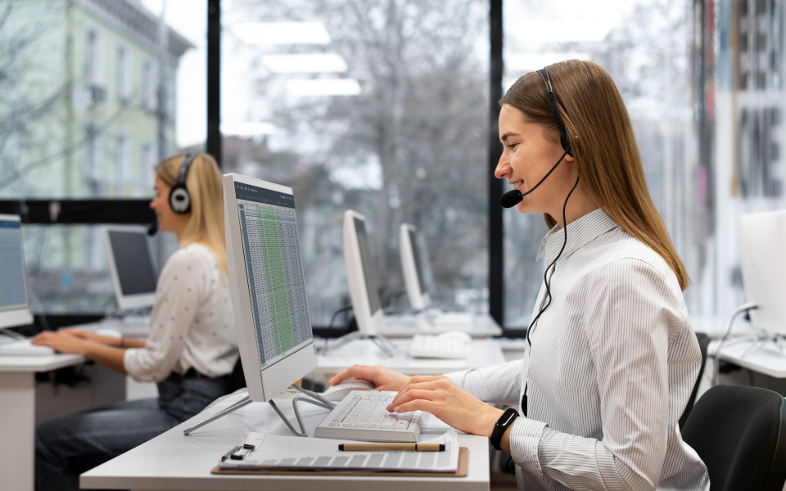 Odoo is now a very well-known ERP system in Germany - BUT: why don't they use our improved solution?

Contact us for more information or a demo.