General agreements IT IS

As an extension of our contract module, this app offers you the possibility to organize your framework contracts with suppliers and their retrieval.
The function can also be obtained as an additional module IT IS purchase agreements for odoo. This greatly increases your productivity and quality in contract processing.




Purchase agreements

Organize contracts with suppliers and suppliers according to requirements

Dashboard of the general agreements

Here you have a direct overview of the current framework contracts or also those which expire soon and may require your attention.
They see both actual and expected costs, differentiated according to the status of the contract.

Supplier's contracts and calls

For the respective contracts, you can configure the framework conditions that apply to the contract. In addition to the products and quantities contained, these include, for example, the running times as well as max ./min. Call count.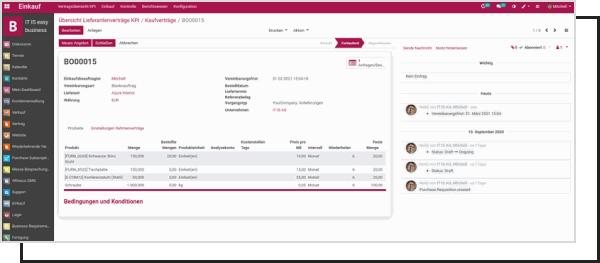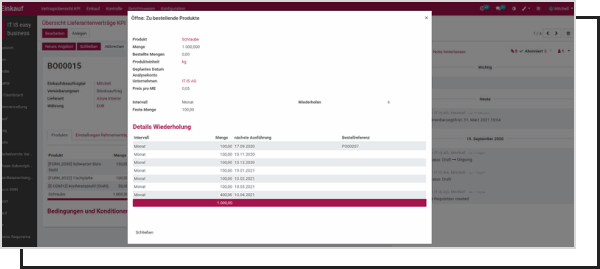 Call planning

In addition to a purely demand-oriented retrieval or ordering, it is also possible to create a delivery plan for corresponding quantities.

Supplier's contracts from selling orders

You can even define the direct creation of a supplier framework contract when confirming a sales order. This can be useful with very high orders from your customers and can be controlled on the individual product line of an order.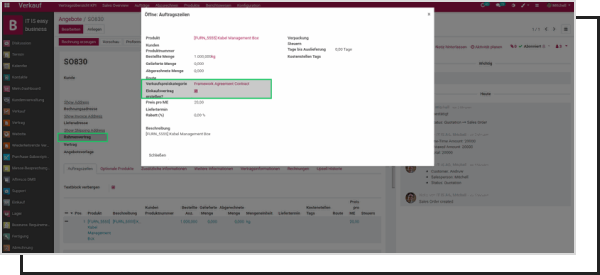 IT IS easy business - the complete solution for your business

Contact us for more information or a demo.