A new wonderful face in ITISeasy.business V16

Enjoy working with the new ITISeasy.business V16 due to the improved menu navigation

The new navigation bar included in ITISeasy.business will make it easier for you to use in the future, as you can show and hide the menu contents at any time and, of course, also add further menu items.
It is also possible to choose between the "old" menu view and the clear new view.
Decide for yourself how you want to work with ITISeasy.business in the future.
Integrated search function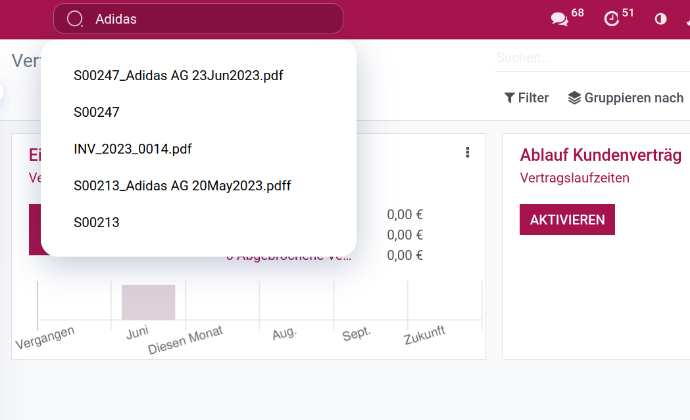 Until now, it was relatively cumbersome to find a specific document such as a quote or an invoice. It was even more problematic to find a certain text or product in offers, orders or invoices.

This is now a thing of the past - with the newly integrated search function in ITISeasy.business, you can now work more efficiently and faster.

The new global search now allows you to search not only for documents such as invoices, quotations or, as seen here, contracts, but also to display results where the search term occurs in the content of a document by means of the also included full text search.

All possible hits are already displayed during the input and can be selected by click.
In many Gannt views, the diagrams or bar charts were usually displayed in only one color and were therefore unclear.

So that diagrams are better understood and read in the future, you can define with the new ITISeasy.business by a simple configuration how the respective page should be displayed to you.

As shown in our example, you select the production step in the production area and define the desired color for this bar chart simply by clicking on it. This process can be done for all production steps in a production order.

The individual production steps are thereby clearly displayed in the Gant view in the color of your choice.
Design your own ribbon and colors

Many odoo users repeatedly encountered the problem that they did not know for sure in which database (for example, in the test or live database) they were currently working.

You can easily avoid this problem in the future with ITISeasy.business:
Define your individual banner now with just a few mouse clicks.

You can do this easily via the system settings. Here you can define per click which information should be visible in your banner, which color you want for font and background, and of course where the banner should be displayed.

From now on, you will always have an overview of your current system and, above all, in which database you are currently working and can thus avoid unnecessary errors.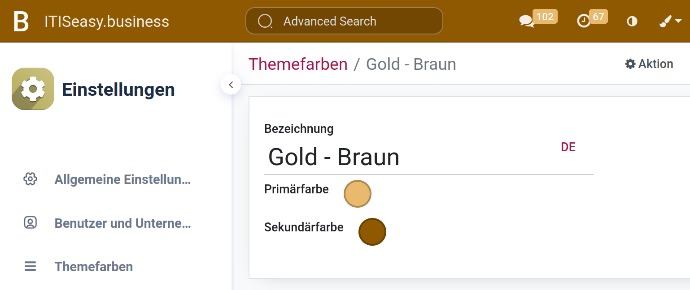 Color scheme for menus
We have also fulfilled the wish of many customers to display the menu bar in their preferred colors with the new ITISeasy.business.

With just a few mouse clicks you can change the color scheme for your menu bar to your individual preference
Optimize your business processes now with the new ITISeasy.business
Contact us for more information or a demo.