Integration of ERP and Document Management System with ITISeasy


Automate your document management with ITISeasy.business.

Automatic Upload of Documents into the Integrated DMS
Create your documents easily and quickly with ITISeasy.business. By linking ITISeasy.business with ITISeasy.docs, the desired documents (such as quotes, orders, invoices, etc.) can be uploaded into the integrated document management system automatically or manually (via drag & drop).

During the upload process, a link to the respective document is automatically inserted. Through this link, the documents stored in ITISeasy.docs can be opened in ITISeasy.business anytime.

Versioning and Workflows with ITISeasy

Versioning of Documents in the DMS

When documents that have already been uploaded into the DMS need to be edited or changed later on (for example, if the customer wants to order a higher consulting quota), these changes are documented, and a new version of the existing quote is created.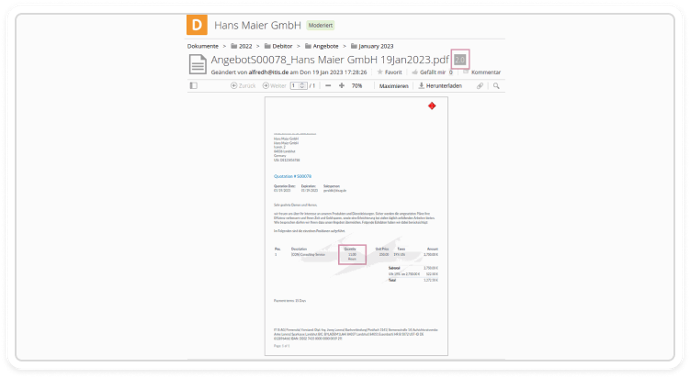 Workflows for Document Approval

With the integrated workflow system in ITISeasy.docs, tasks can be automatically assigned to employees.

When a document (e.g., a quote) is uploaded, the task to review and approve the offer is automatically created and sent to the respective employee via email.

Once the employee completes the task, feedback is provided about the completed task, and the document is now allowed to be sent.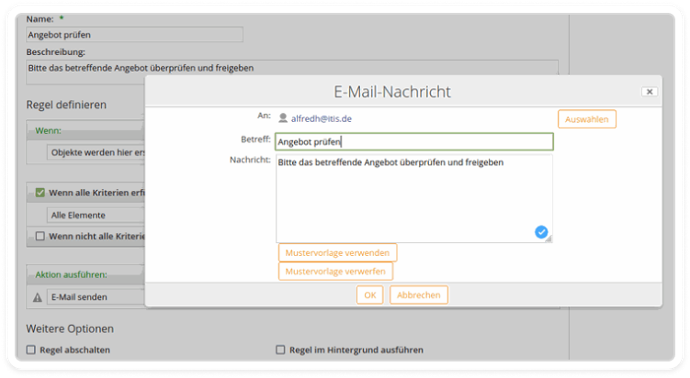 Previous

Next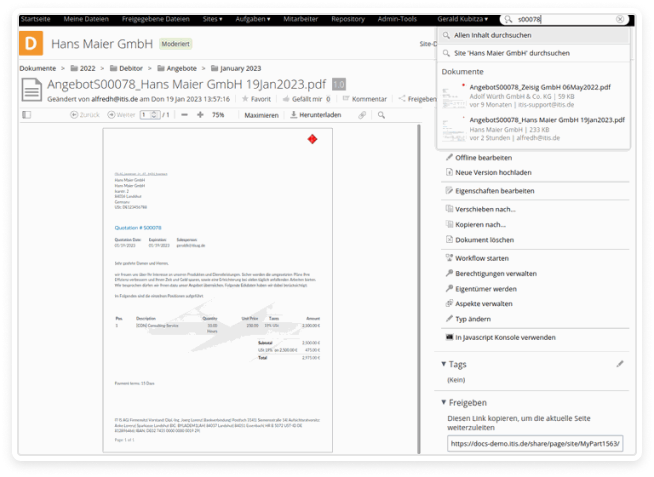 Search for a Dedicated Document

Utilize the fast and powerful search function integrated in ITISeasy.docs as needed.

If you are looking for a specific document and know its title but are not sure where it was stored, simply enter the search term in the designated field, and ITISeasy.docs will provide you with the result in seconds.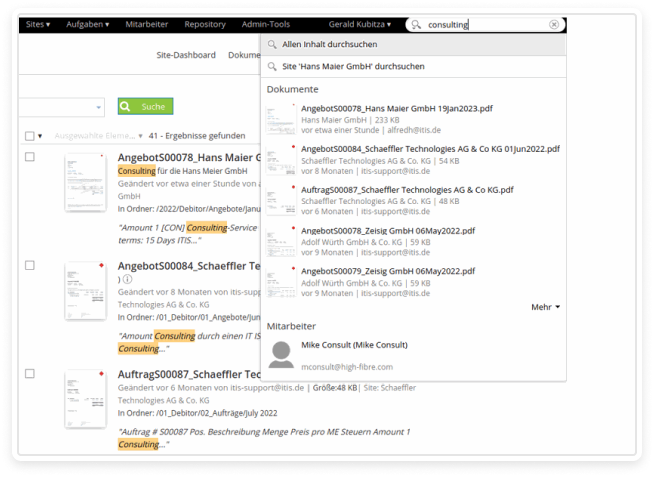 Search for Document Contents

With the full-text search feature included in ITISeasy.docs, you can search all documents for a specific text string.

ITISeasy.docs will provide you with all documents that contain the searched text as a result. The found documents can, of course, be opened by clicking on them.

The Odoo ERP System is Popular in Germany - Why not Use Our Improved Solution Instead?

Contact us for further Information or a Demo!