Einvoice with ITISeasy.business

Simplify receiving and sending invoices with ITISeasy.business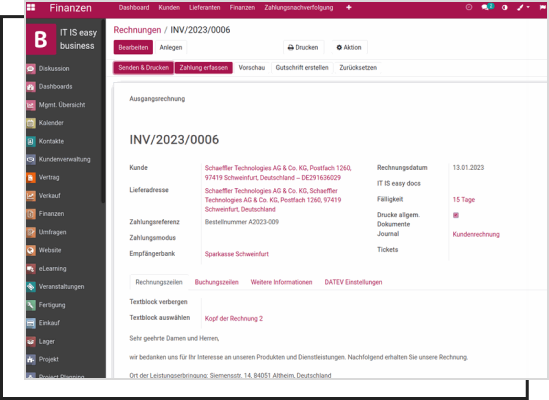 What is ZugfeRD and Factur-X?

In France, the name Factur-X is used for the German-French standard for a standardized electronic invoice format. The format displays a PDF with embedded XML, allowing electronic extraction and processing of invoice data. Factur-X is currently available in version 1.0 and is freely accessible. The definition is fully compatible and technically identical to version ZUGFeRD 2.2.

This standard is compliant with the European Norm EN 16931, which defines the implementation and technical rules for electronic invoicing in Europe. The goal is to ensure general interoperability and compliance with legal regulations. The ISO standard PDF/A-3 is also taken into account. Therefore, users, at least in Europe, can be assured that this standard will become widespread. In Germany, since 2021, all authorities have required that invoices must only be transmitted in this format.

Create your invoices as usual, quickly and easily with ITISeasy.business.

Once all relevant fields have been filled out and the invoice draft has been reviewed, the invoice can be booked and finalized.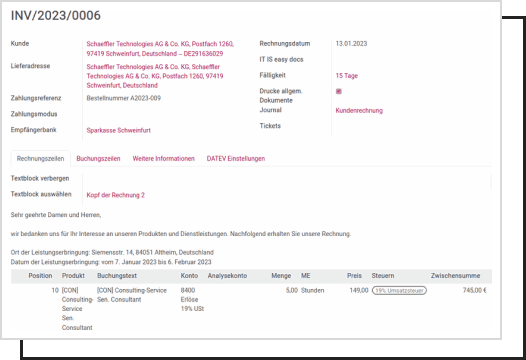 The sending of the invoice is done directly from ITISeasy.business to the respective recipient. The email is automatically generated from the provided template and already contains all the desired information.

By clicking on "Send & Print," the PDF document is sent to the recipient and additionally supplemented with an XML component, so that the recipient recognizes the invoice as an e-invoice and can automatically process it.

All required data has been added. The invoice draft has been reviewed. The invoice is being booked.
Creating invoices quick and easy. With ITISeasy.business.
​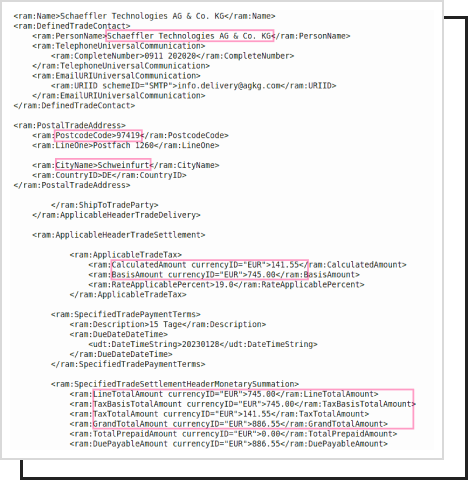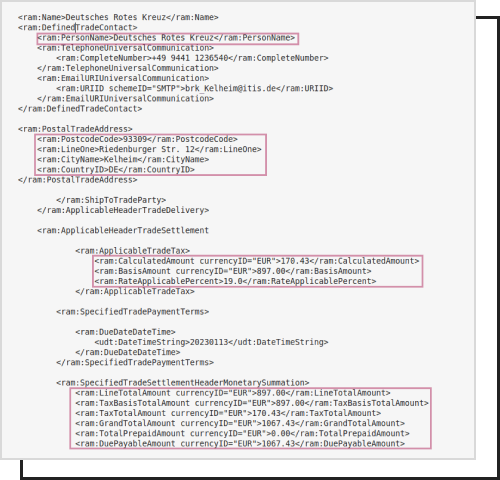 With ITISeasy.business, supplier invoices no longer need to be manually entered or scanned using OCR (Optical Character Recognition) software and then manually verified to ensure all data was correctly recognized.

ITISeasy.business recognizes the information contained in the XML structure and automatically populates the input invoice form with this data. This eliminates the need for manual processing, and the supplier invoice can be booked without any further manual intervention. The system streamlines the process and ensures accurate and efficient handling of incoming invoices.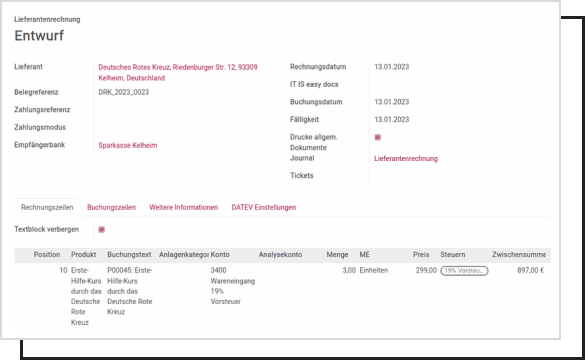 The Odoo ERP System is Popular in Germany - Why Not Use our Improved Solution?

Contact us for further information or a Demo.