ITISeasy Project add-ons​

Project management has been expanded to include a number of additional features that make it easier to manage and track projects. This starts with the demand description and ends with the evaluation of the services.


Contact

How our project module works
In this video our consultants show how to use the module and the most important features

Tasks in Kanban view

In the Kanban view, you will get an overview of maturities directly. With the help of color configuration, you can also provide optical clarity.

Duties in timeline

Clear consideration of the tasks and dependencies on the timeline for the project overview.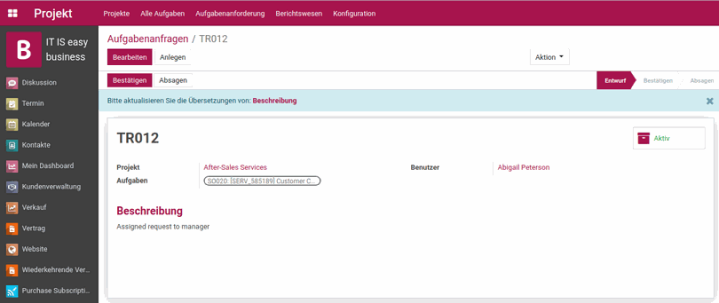 Duties ask for

If there are no tasks for certain tasks, employees can create a task request from the project manager via the task requests. The project manager is notified by e-mail and can confirm the request.

Timesheet and weekly planning

The timesheet contains a number of additional fields, such as scheduled or completed hours. With this, you always have a look at what has already occurred or is still open. However, there is also the possibility to create a planning. It is configurable whether this is a weekly planning or for an entire month.
The plan can be sent to the manager for review and release. The planned tasks can then be transferred to the actual timesheet or the work done.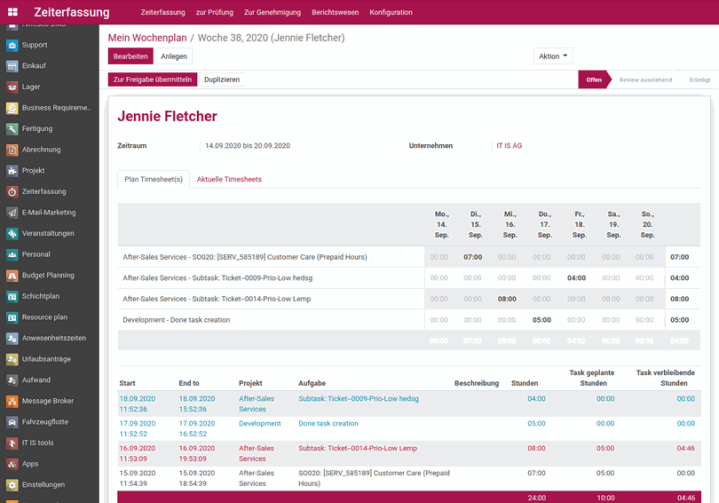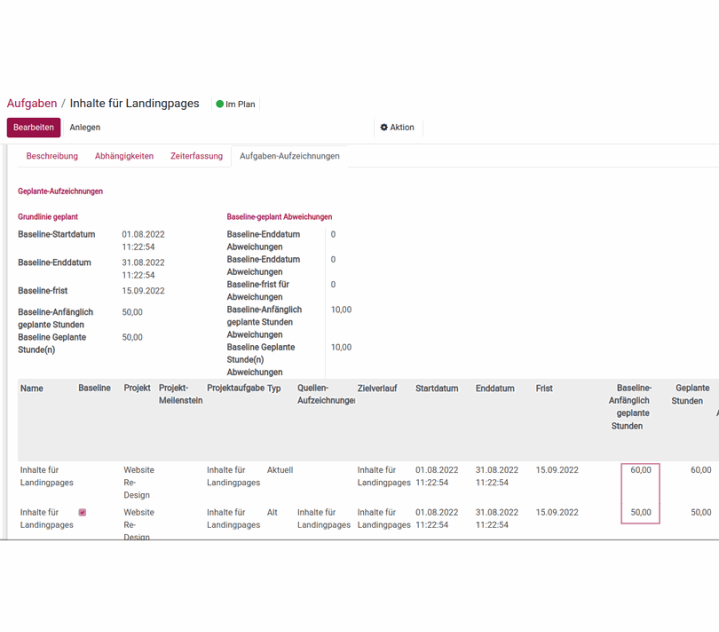 Project Baseline

With the vastly expanded and improved project management in ITISeasy.business, you can easily alter an already running project to your new requirements and circumstances with just a few mouse clicks, but in particular without grief later! Because normally, you will lose all previous data, since standard odoo is not logging changes.
Until now, these changes were not logged, which made it impossible for the person responsible for the project to see which changes were made and what effects they had on the course of the project.
With our module, you can change the previously planned time for each project task without losing the old planning. For example, the start and end time can be adjusted to new requirements, but the former values prevail.
Another area most important for nearly any business are the project costs incurred. Through "Project Baseline", all adjustments made to the tasks will be considered in terms of costs, also. Thus, these are available for calculations, eventually as the foundation for a supplementary offer.

ITISeasy.business
The complete solution for your business
Contact us for more information or a demo.