IT IS easy team
The team meeting which, above all, functions and gives to you personal clearances in which no outsider is unintentionally a listener. With extensive training and presentation function.
Meetings out of the Home-Office

IT IS easy team is the best Open-Source conference solution for web-team-meetings and online-meetings. Especially in the current times, a reliable tool for transferring presentations and documents, but also audio and video is essential. You and your colleagues can easily conduct meetings with employees or customers, but also trainings online, while IT IS easy team offers a very good audio quality and allows to share the screen, exchange notes, share surveys, documents and much more.

All you need is an up-to-date browser. But most importantly, the solution runs on your own server and you have no unwanted listeners or secret recordings of your meeting.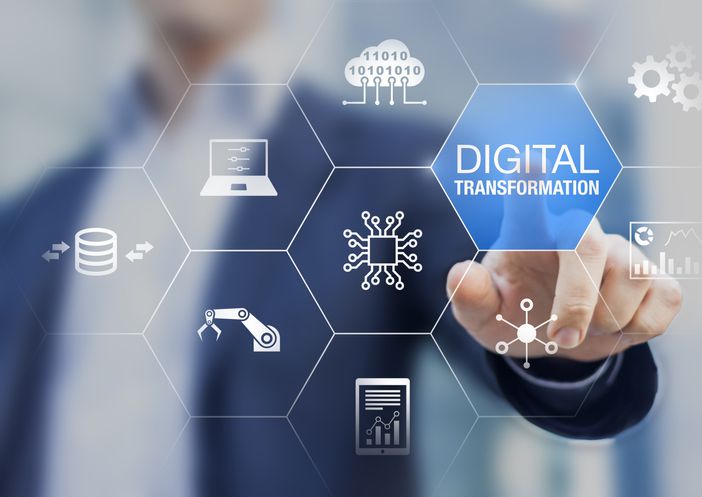 Costs and service


What arguments can convince you? There are many... Below you will find an excerpt of the reasons why you should also rely on IT IS easy team too.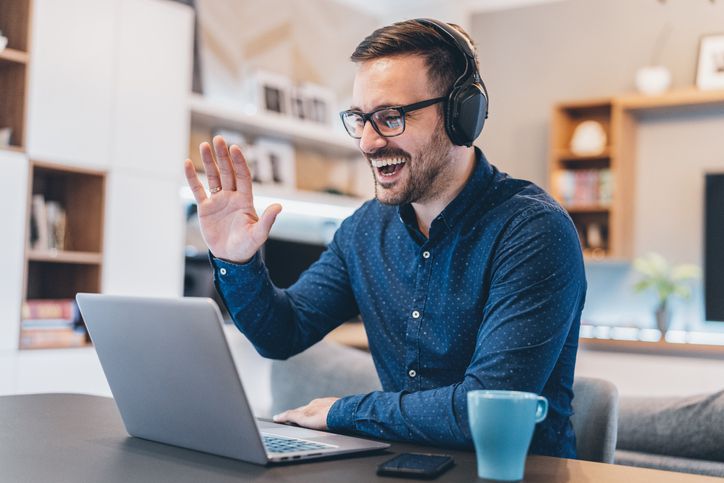 Acquisition and operating costs

For a private solution very low usage costs, with no other who listens.
Support and classification

We are there, when you need help: Cost-effective support 8/5 to 24/7 as an option.
Migration und updates

intuitive to operate and flexible to use as a platform for communication.
Training
The training possibilities become a slightly investigateable system in the dialogue testable.

Extensibility / Customizing

Own customization via interface controllable to a limited extent. Adaptations/extensions in Java code possible at low cost


Future-proof

Future-proof and maintainable for a long time due to OpenSource.
Runs on your
PC/ Tablet /Smartphone.
Client-Requirement

Any current operating system (browser support).
Acces from everywhere
Yes, with good internet connection.
Conception
Client / Application Server / Filesystem.

Reliability

In use for one year, > 98%.
Data security

Secure system (no access from third parties).
Data exchange

Clear Admin surface.
Other special features

An easy invitation management of participants with legal assignment.
The big community which improves solution steadily enlarges

Operation

In several data centers in Germany only.
Video conferences
Phone conferences
Handing over presenter role
Group functionality
An easy dialling by sending access code for customers
Whiteboard with note function
Recording of meetings
Webbased
Mute
Sharing Screen
Display who is talking
Trainings
Surveys
Selectable Webcam settings
Upload presentation
Webinar

Online meetings and webcasts with

IT IS easy team

Document management simply, structures - easily
Control center for your meetings

With IT IS easily team you can provide the possibility of meeting rooms for different conferences, groups or customers. These continue and can be used over and over again. Therefore these are to be seen like a sort of study. Among the rest, per space the following settings can be carried out:

Muting participants when entering

Approval by moderator before entering the room

Every participant can start the meeting

All participants take part as moderator

They have to adapt with it the option the settings for the respective purpose optimally.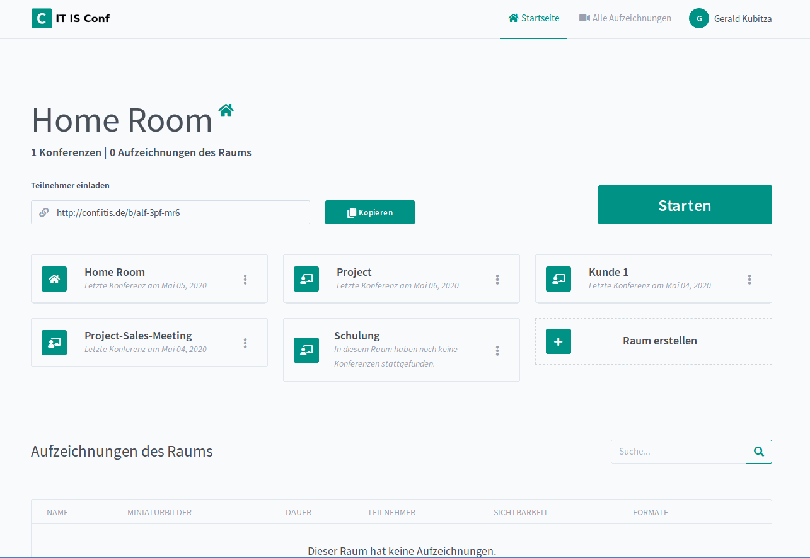 View in the web conference


The registration is able to come or without audio occur. They see the participants and their status. Further the possibility exists to divide documents, to divide Päsentationen hochzuladen and of course the screen.

Moreover, common notes are available which are visible for everybody and editable. These can be exported in the connection.

Moreover, a chat function is available for the exchange.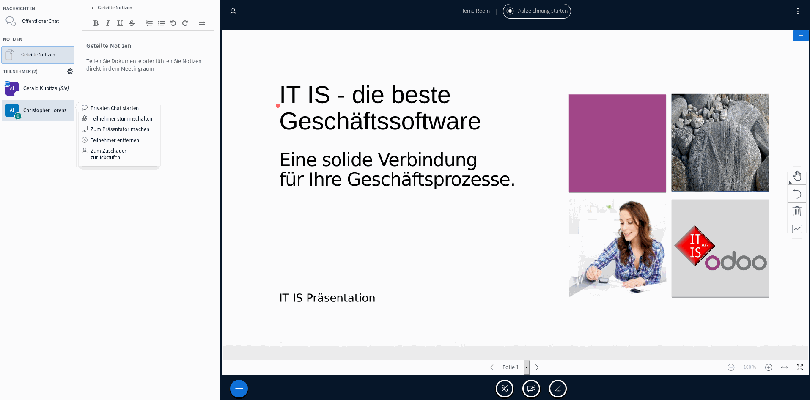 Get started today with your secure meeting solution
Configure your individual solution directly in our store.
Multi-user & recording

Several users can work at the same time with. Besides, the different participants are shown with individual colours and names beside the courser.

Every conference can be recorded. The admission can be paused and be continued and is available to all participants in this space also at a later time.
With the help of the search function you find the document in request in the shortest time.

Furthermore, a filter function is available to find the document you are looking for. Here you can select various metadata such as date or author.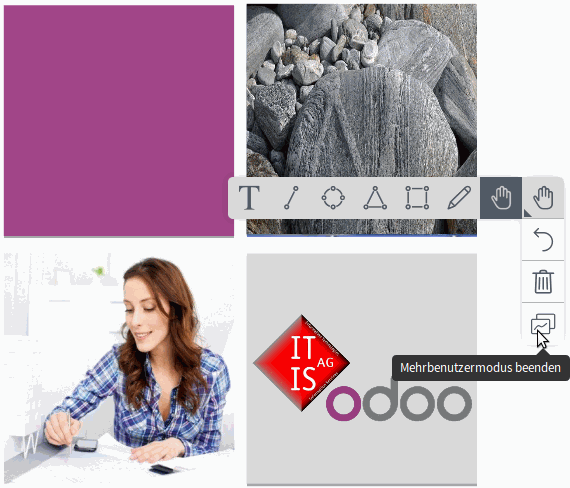 Participants status
Emojis may not be missing, of course. Participants have the possibility to set a status. This is visible to everyone and can be used as feedback, but also, for example, as a request to speak if the participants are muted.

A small but very helpful feature.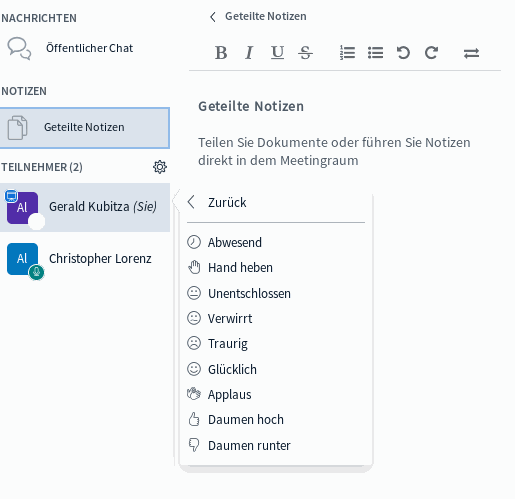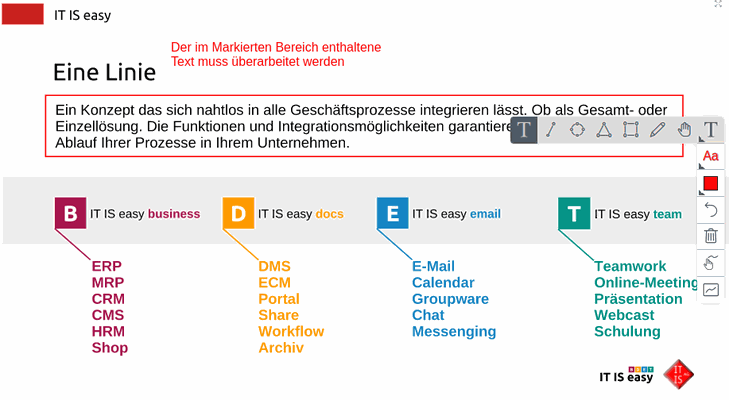 Whiteboard with note function

Use the note function of ITISeasy.team and edit the presented documents together with your participants.

The discussed and planned suggestions for changes or comments can be noted directly on the shown page.
Recording of meetings

Record the current meeting simply by clicking on it. The video created can then be made available to the participants.

This is important for training sessions, for example, so that the participants can watch it again and retrace the trained areas if necessary.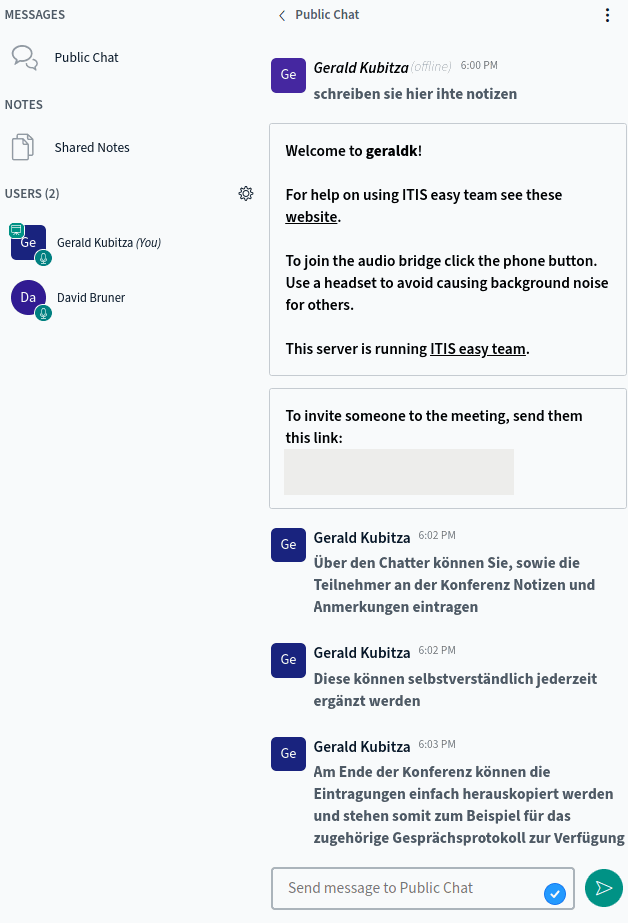 Summary by meetings

The participants of the meeting or video conference can enter notes on the discussed topics at any time via the chatter.

These entries are immediately visible to all participants and can also be commented on.

At the end of the conference, the notes entered can be copied out and are thus also available as a conversation protocol.
Webcam settings
Via the virtual background settings, ITISeasy.team provides you with a selection of professional backgrounds. The desired background for the upcoming video conference can be selected easily.

In addition, you can also select the transmission quality and, if necessary, the webcam used.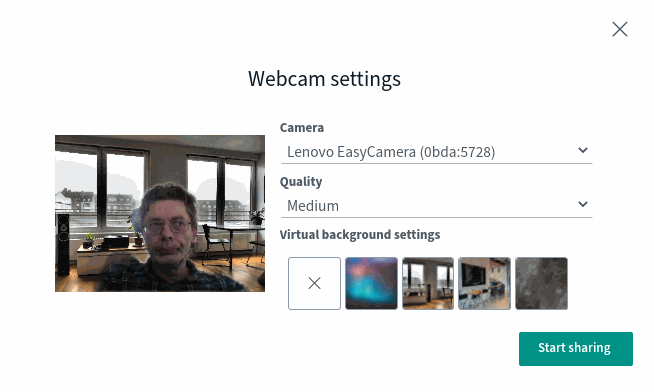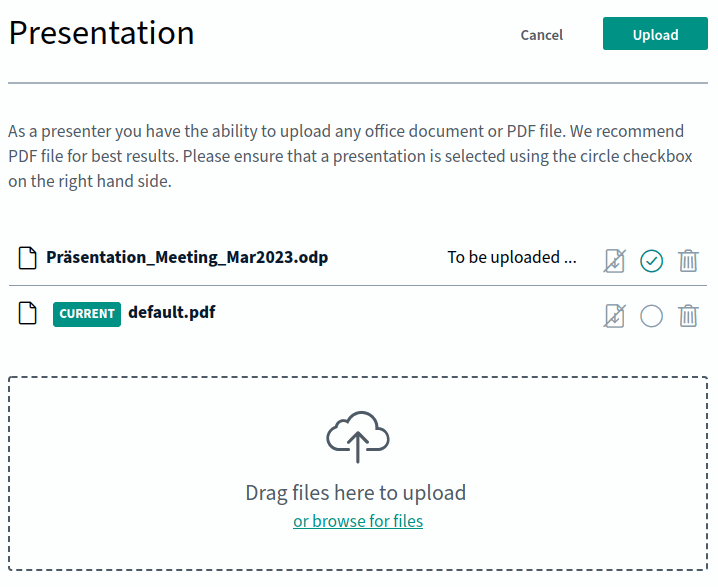 Upload presentation
Quickly and easily exchange the presentation, even during the current meeting, to address a new topic during a training session, for example.
Options for the moderator

Overarching actions can be performed via the gear. These include:

Deleting all status icons

Muting all participants

Saving participants names

Restrict viewer rights (webcam, microphone, chat, notes, see other participants)

Breakout rooms (various rooms can be created to which the participants can be distributed, limited in time - e.g. for group work)

Subtitles (create for recording)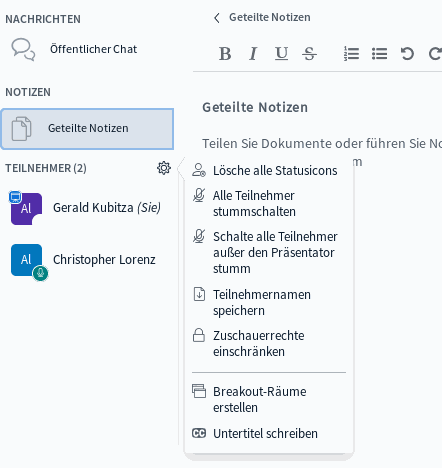 IT IS easy team
Besprechen Sie Ihre Themen online.
Surveys

In the rooms surveys can be also defined. Besides, you can see the results direct and if publish desired also.

Provided that a decision for the next steps or an appointment is necessary, can be this one big help to reach fast and simply to a result.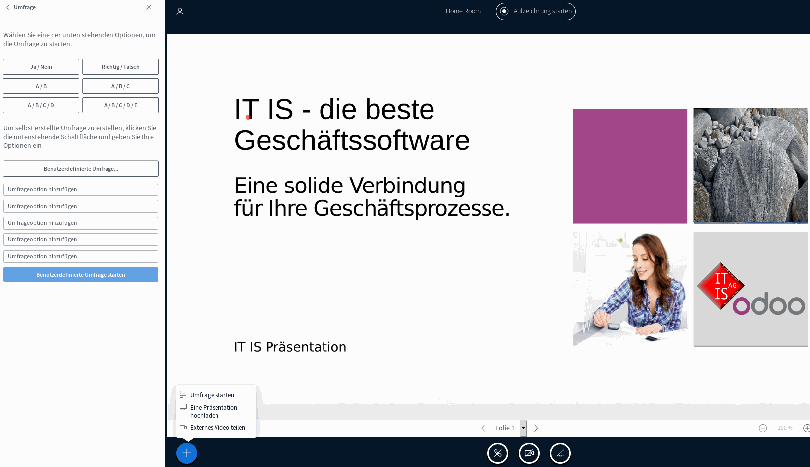 IT IS easy suite

Attractive prices in our suite products

Use synergies - benefit from all advantages