ITISeasy CRM Customer Profile

This module allows you to create a profile of your contacts. Definable questions and answers are available for this purpose. Based on configurable rules, you can have the contacts tagged with keywords for segmentation and thus always have the perfect overview of your partners.

CRM Profile

Contact segmentation based on configurable characteristics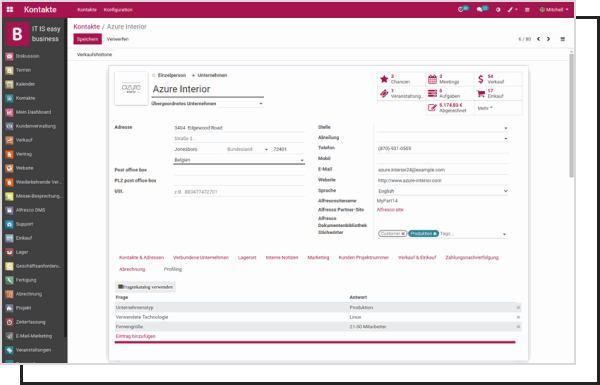 Partner contact - Profile
​


At the contact there is an additional tab for the profile survey of your business partners. There you can see the questions or answers you have created about the customer's characteristics. The information collected there allows you to segment and automatically mark the contacts with appropriate tags, so that they can be quickly and easily identified for the specific purpose.

For example, you can enter the size of the company or the number of employees, the software used, relevant business areas and what serves your special purpose - freely configurable.

Questionnaire or characteristics

Based on questions, you can define predefined answers or selections that identify the characteristic of each contact.


IT ISeasy.business - the complete solution for your company

Contact us for more information or a demo.