ITIS Appointments

The ITIS appointments module allows you to manage appointments with customers easily and conveniently. Configure time slots, showing your availability for your customers, who can easily book the corresponding time slots directly on the website. Provide free or chargeable appointment with your expertised employees, and optimize your support services and availability this way. Define, if the requested appointments need to be confirmed by your team, or not.

Time Slots and Appointments

Configure time slots for employees and schedule appointments with groups or dedicated contacts.

Appointment Dashboard

Keep track of ongoing or requested appointments with the appointment dashboard. You can also see the total amount billed to customers for appointments.

The corresponding historical trend is displayed graphically.


Appointment Scheduling

In the appointment itself, parameters such as date, time, and participants are managed. Additionally, each appointment is associated with an appointment product, allowing you to differentiate between services and facilitate billing, if desired.

Groups can be created based on the employees' skills, and it's also possible to assign employees to them.

Time slots can be assigned to employees and filtered during appointment scheduling.


Creating Time Slots

Time slots can be created manually, but they can also be generated using batch processing. This way, you can easily and quickly represent the available appointments.


Appointment Scheduling via the Website

Customers can schedule an appointment with a specific department (group) or a particular employee, and even pay for the requested service, directly on your website.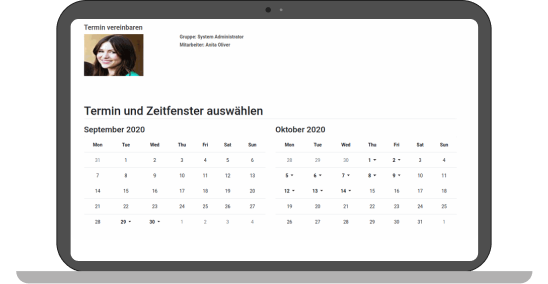 Appointment Booking by the Customer

The customer can use the website to select the desired department or employee with whom they want to schedule an appointment. They can also view the availability of the chosen department or employee.

There is an option to add text during the booking process, allowing the customer to specify their desired agenda or the topic they would like to discuss.

Customers also have the ability to cancel appointments if you allow this as an option.

For paid appointments, payment is processed through the webshop using the payment methods defined by you.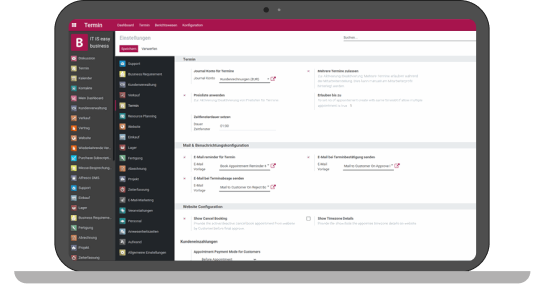 Configuration Options for Customization

For appointments, you can utilize price lists, allowing you to apply different rates per employee, in addition to different products.

Enjoy the flexibility to freely configure the content of the messages that your customers receive, including content and format.

ITISeasy.business - the Comprehensive Solution for your Business

Contact us for more information or a demo.